Udaipur: Lake Pichola, Jag Niwas, Jag Mandir, City Palace.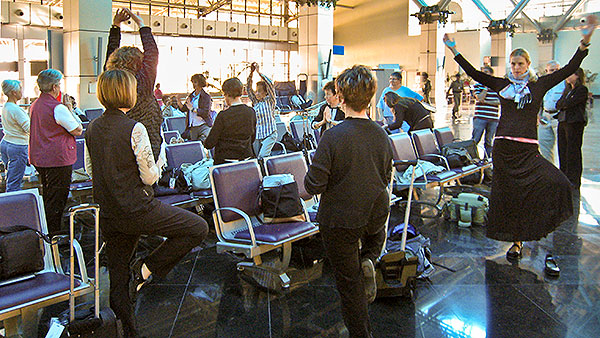 We are about to fly to Udaipur this morning, but our flight is delayed. To mitigate the delay the ladies in our group perform some sort of mystical dance ceremony known only to them, while un initiates get out of the way. This seems to work; our flight is soon called and we are on our way.
__________________________________________________________________
Udaipur and Lake Pichola
This proud city of around 400,000 was founded by Maharana Udai Singh in 1559, and soon after became the capital of Mewar. The Rajput rulers of Mewar steadfastly defended their independence from the Mughals and remained in control of their kingdom until it acceded unto the Union of India in 1947. Over the course of almost 400 years they kept on adding to their main palace, the City Palace of Udaipur, as we shall see tomorrow. For today, we take a slow cruise around Lake Pichola, marveling at the beauty of other palaces both on and offshore.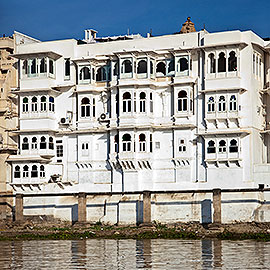 Udaipur is built on a ring of hills surrounding several lakes, principally Lake Pichola (above). On the shores of Lake Pichola there are an almost unbroken series of palaces, havelis (mansions), ghats and temples.
__________________________________________________________________
Jag Niwas
The Jag Niwas (Lake Palace), built around 1750 as a retreat for Rajput royalty, is now a five star hotel. Its romantic image is so widely recognized as to be iconic, though most people who recognize it may not know exactly where and what it is. It has been a set location for many films, including the James Bond film Octopussy. Our cruise circumnavigates it, but we do not stay there. It may be just a bit beyond our budget.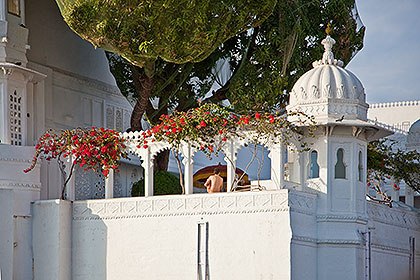 __________________________________________________________________
Jag Mandir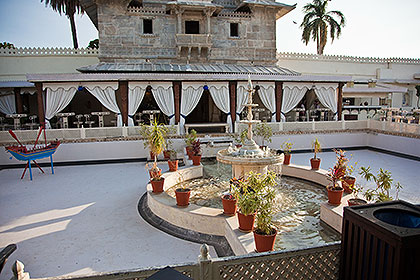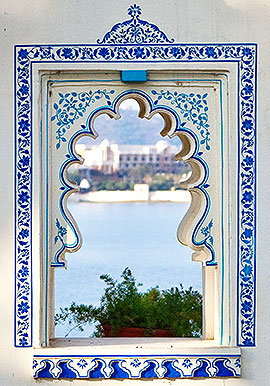 Another lake palace, the Jag Mandir ("Lake Garden Palace") was completed around 1620 for Maharana Jagat Singh, after the project had been underway for nearly 70 years (during reigns of two earlier Maharanas). Like the Jag Niwas, it was primarily a retreat and pleasure palace, though at times it also found use as a refuge. It now operates as a hotel and welcomes day visitors (us) to admire its beauty and seek refreshment. We approach its jetty, guarded by elephants, and spend a half hour or so here taking pictures of its courtyard and gardens.
By the time we are ready to leave it is late afternoon. Looking across the water we have a grand view of the City Palace illuminated by sunset.
__________________________________________________________________
City Palace
The City Palace of Udaipur is the largest in Rajasthan (covering an area of 5 acres), having been built over a period of four centuries, by 22 different Maharajas. Though much of it, including the parts we will see, are now a museum, the City Palace also includes several hotels and restaurants.
Two views of the Shiv Niwas at the south end of the palace. The Shiv Niwas used to be the palace's guesthouse; it is now a hotel.
Elephant and horse frescoes flank the entrance where tickets are taken.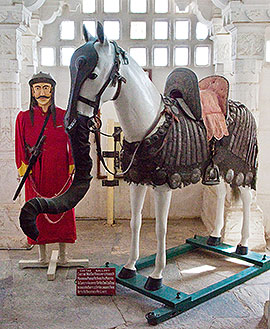 Left, a portrait of Maharana Bhupal Singhji (1930-1955). Center: a statue of Chetak, the favorite horse of Maharana Paatar.
Lord Ganesh enjoys surroundings of elephants and finery.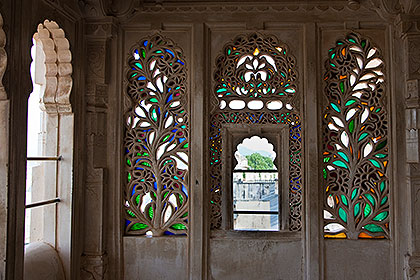 Latticework, colored glass, bathing pool, fountain and bird cages in the royal apartments.
Views of the city from outside and inside.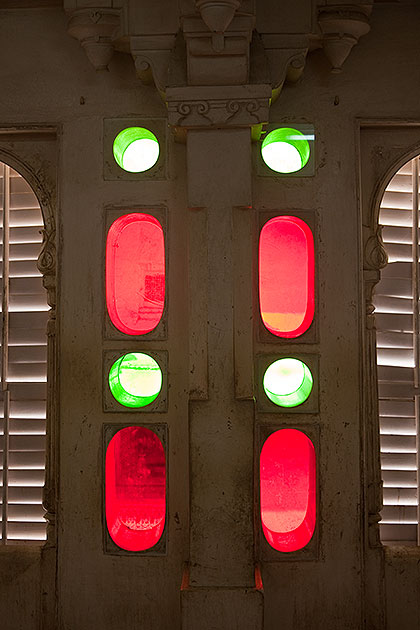 Glass inlaid walls of the Chini Chitrashala, part of the Zenana Mahal (ladies quarters).
Kanch Burj (Glass Turret), inlaid with red and silver glass, surrounding a self-portrait of me in the center mirror.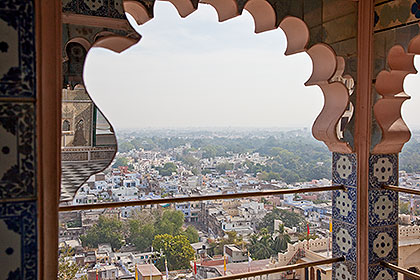 Even outside arches are mirrored.
One of the palace restaurants.
Chini Chitrashala, part of the Zenana Mahal (ladies quarters).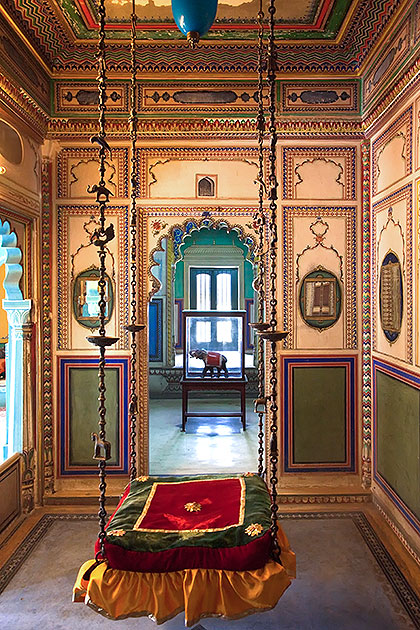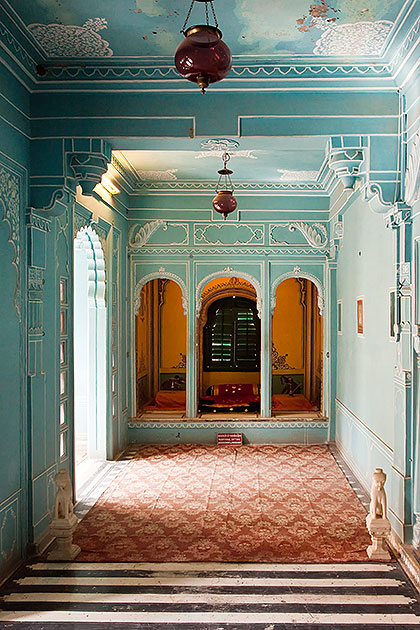 Rooms within the Chini Chitrashala, part of the Zenana Mahal (ladies quarters).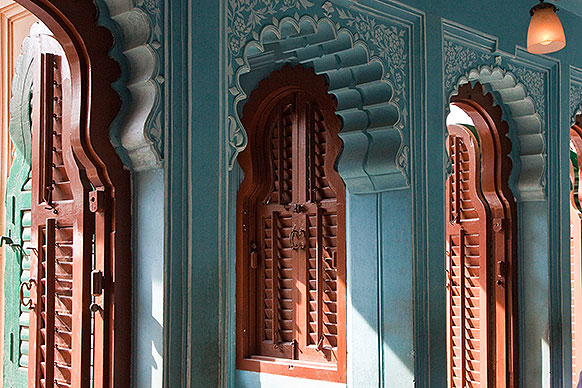 Details in the Chini Chitrashala, part of the Zenana Mahal (ladies quarters).
Sun Window in Surya Chopar (Sun Square), installed by Maharaja Bhim Singh (1778-1828), the divine symbol of the house of Mewar, which traces its lineage to the Surya Vansha, descendants of the Sun.
Mor Chowk (Peacock Square). Note the kings upstairs and the peacocks below.
Here is a closer view of the kings, and below are closer views of all three beautiful peacocks.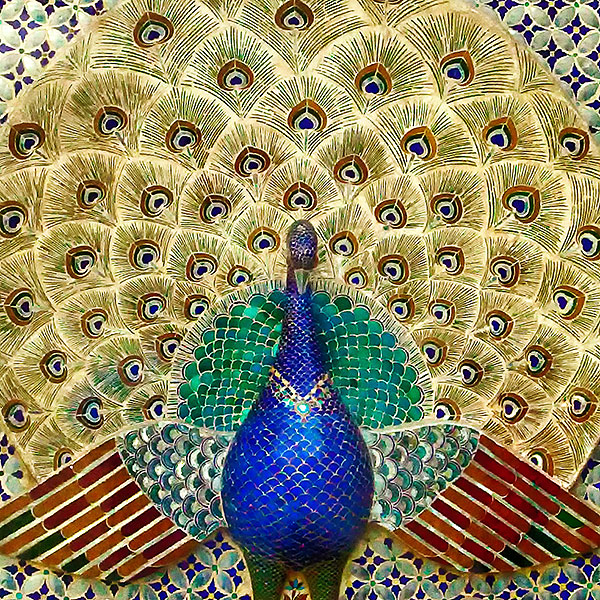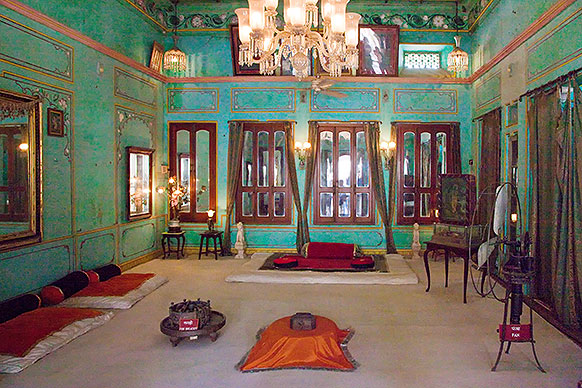 With a last look at a decorated room and a garden wall, we leave the City Palace. Now we will be motoring to Ranakpur, getting lunch on the way.