Delhi: Vijay Chowk, Meena Bazaar, Jami Masjid, Raj Ghat, Humayun's Tomb, Hanuman, Farewell
From Bodh Gaya this morning we motored to Patna, then flew from there to Delhi. By the time we arrive and get through the Delhi airport it is 2PM, so we have little time to see Delhi before dark, and this is our last day here (our flight back to the USA leaves tonight at 1AM).
Delhi is the capital of India, and its third largest city, with a population of at least 15 million. It is divided into several distinct sections, particularly New Delhi, laid out by the British with wide avenues, mansions and national government buildings; a Diplomatic Enclave; and Old Delhi, the congested old part of Delhi dating from the 16th century or earlier.
We start with a brief bus tour of New Delhi, focused on Vijay Chowk. After that we will move to Old Delhi for a visit to the Jami Masjid (mosque), then we will visit the Raj Ghat, and Humayun's Tomb.
__________________________________________________________________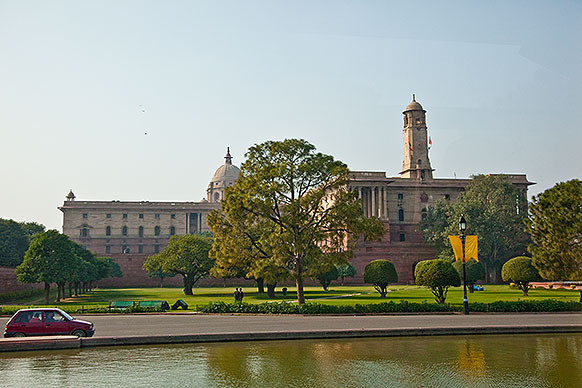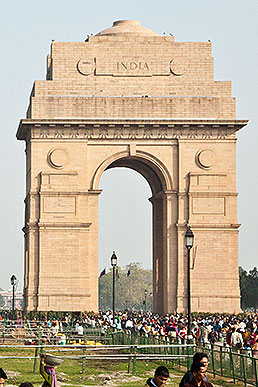 The park-like area around Vijay Chowk is where the president's residence, primary ministries of government and so on are concentrated. Strict security restrictions prevent our bus from stopping to allow us to get out there, so we just take a few snapshots from the bus before moving on. Above left is the South Block, where the Prime Minister's office and the Defense ministry are located. There is also a North Block, with the same architectural design on the other side of Vijay Chowk Road. The India Gate (above right) is a red sandstone arch built to commemorate fallen British and Indian soldiers of several conflicts.
__________________________________________________________________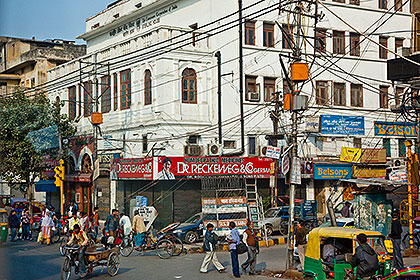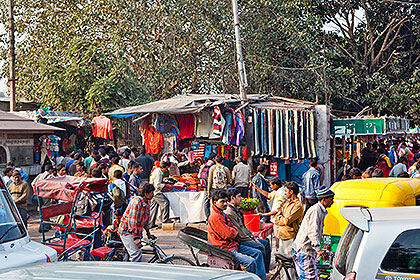 Our bus enters Old Delhi and inches along toward the Jami Masjid (mosque) we are trying to reach. It is Sunday, and the streets are jambed with traffic. Open air bazaars are operating along the streets everywhere, and it seems that even pedestrian traffic is barely moving. These photographs are taken primarily around the area of the Meena Bazaar, located adjacent to the Jami Masjid at Chandni Chowk.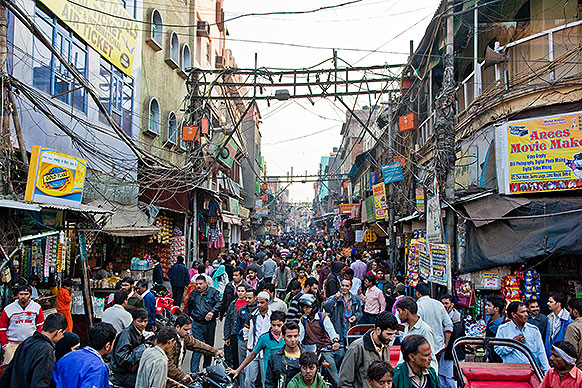 __________________________________________________________________
Jami Masjid
Finally we reach the entrance to the Jami Masjid, one of Asia's largest mosques, able to accommodate up to 20,000 worshippers at Friday prayers and special occasions. It is the principal mosque in Delhi, and was built in the mid-17th century by Emperor Shah Jahan. Above, we climb 39 immensely wide steps on the north side to enter the mosque. By the time we get here at 3:30PM there is not much time to visit, because the mosque closes to non-worshipers at 4PM for evening prayers.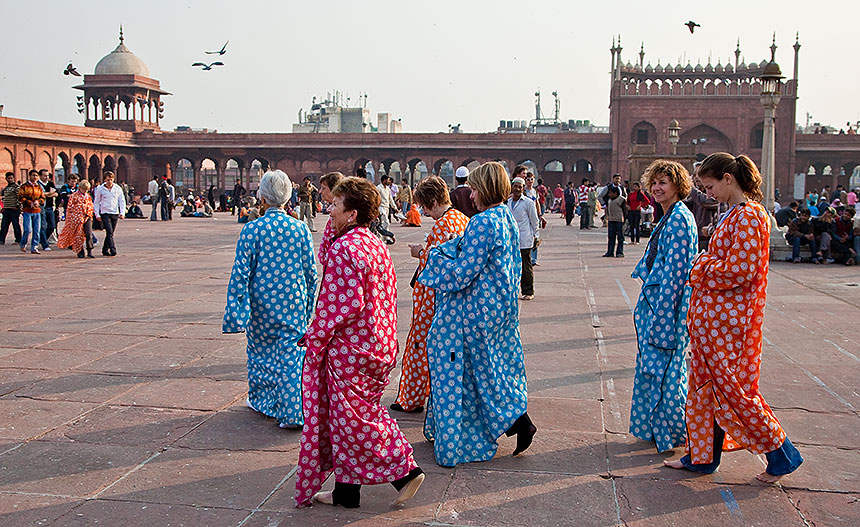 The mosque attendants conclude that our women are not attired conservatively enough, so they must wear these colorful robes to enter the mosque.
From the courtyard we are looking at the mosque itself, above. It is about 261 feet wide and 90 feet deep, with three partly-gilded domes.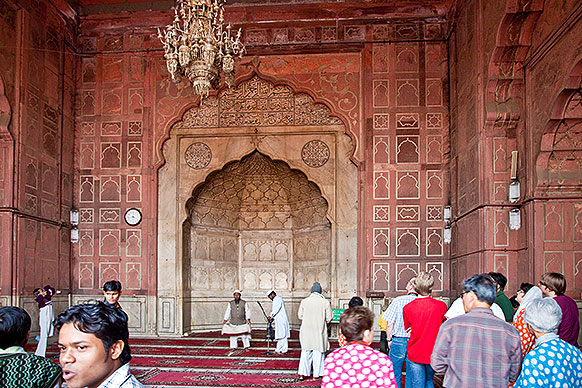 The marble floor of the mosque is ornamented with borders of 899 spaces, like prayer mats, for worshippers. These have been partly covered by carpets.
The mosque is flanked by two minarets, each 130 feet high, and containing 130 steps. We do not have time to climb either of them.
Onlookers have been amused by the ladies' robes, and several ask to be photographed with them.
This is a view of the courtyard, looking at the east entrance gatehouse. By now, attendants are warning us we must leave right away.
__________________________________________________________________
Raj Ghat is the site of Mahatma Gandhi's cremation. Set in a lush park, the memorial itself is a simple black marble slab inscribed with his last words (Oh God!). As Gandhi is considered the father of the Indian nation, this site hosts official prayer gatherings on his birthday and death anniversary.
__________________________________________________________________
Humayun's Tomb
Still hurrying to make the most of remaining daylight, we reach Humayun's tomb after 5PM. What is referred to as Humayun's Tomb is actually a park with at least 100 graves and tombs, including Humayun's. It was designated a UNESCO World Heritage Site in 1993.
Humayun was the second Mughal emperor, and father of emperor Akbar, whose imprint we have seen at several sites on this tour. His tomb was commissioned by his Wife Hamida Banu Begum in 1562, six years after his death. It was designed by Persian architect Mirak Mirza Ghiyath, and was the first "garden tomb" in India, setting a precedent for many future Mughal mausoleums including the Taj Mahal.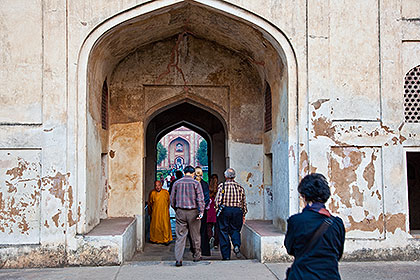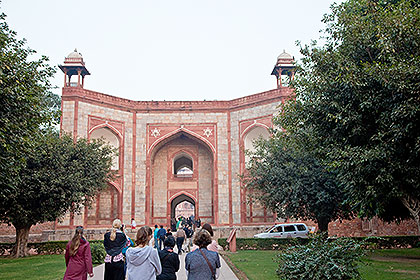 Left, we are entering the park at the northwest visitors entrance. Right, we are approaching the gatehouse to the 30-acre Char Bagh garden ("Four Gardens"), the 30 acre Persian-style garden with a quadrilateral layout that surrounds Humayun's Tomb.
Here, we are in the Char Bagh garden, seeing Humayun's tomb itself, which is constructed of red sandstone and white marble.
Above, the exterior arch of Humayun's Tomb, showing niches on two levels. Below, Jalis (fine trellis work in marble), which later became a common element in Mughal architecture, as we have seen before. The interior architecture includes eight two-storeyed chambers radiating from the central domed chamber. These in turn lead to others; altogether there are 124 vaulted chambers within the building. Besides Humayun, his wives and one of his sons have graves within. Unfortunately it has become too dark for me to get usable photographs of the interior.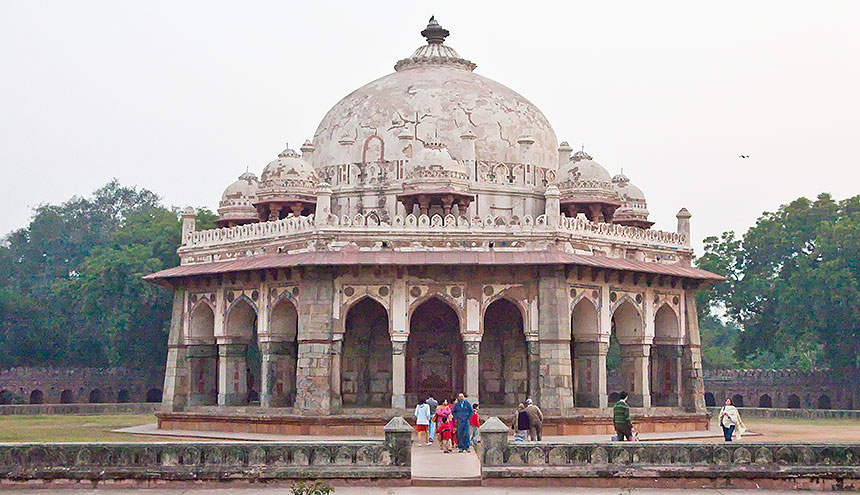 One of the other tombs within the park predates Humayun's by twenty years. It is the tomb of Isa Khan Niyazi, an Afgan noble who had actually been an enemy of the Mughals. It was built during his lifetime, and is the burial place of his entire family. It is 5:30PM, darker than it might look in the photograph above, and we are being called to return to our bus.
__________________________________________________________________
On our way to dinner we pass by this enormous illuminated statue of Hanuman, the Hindu monkey deity who plays such a pivotal role in helping Rama rescue Sita in the epic Indian tale, the Ramayana. He seems to be waving farewell to us, and indeed this does mark the end of this photo essay. If you enjoyed it, why not drop me a line?