Jaipur (Part One): City Palace, Jantar Mantar, Bapu Bazaar, Hawa Mahal.
Early this morning we have flown to Jaipur, called the "Pink City" because of the predominance of that color on building exteriors here. Jaipur was built around 1730 by Sawai Jai Singh II to replace Amber (which we will visit tomorrow) as the principal seat of the Kuchwaha clan's kingdom. Now a city with population of around 2.5 million, it is filled with palaces, temples, bazaars, and historic sites. We begin at the City Palace Museum.
__________________________________________________________________
City Palace Museum
The heart of Sawai Jai Singh II's new city, the City Palace is enclosed by a continuous outer perimeter of buildings and walls within which are several large open courtyards with other buildings in them. Much of it (but not all) is now a museum, which we will visit.
We enter past a grand inlayed door armored with spikes, and through an elaborately frescoed archway.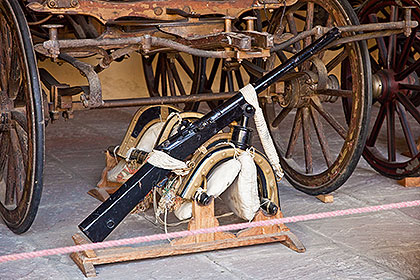 Carriages and artifacts in the "transport gallery".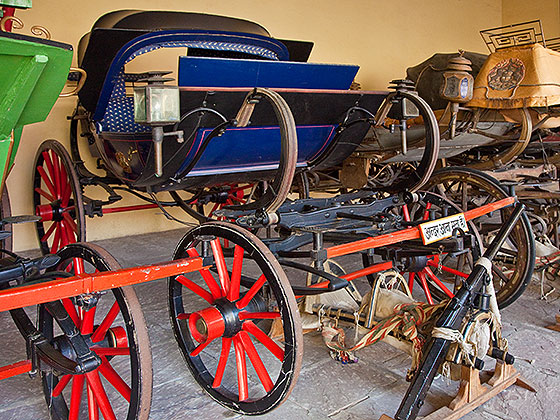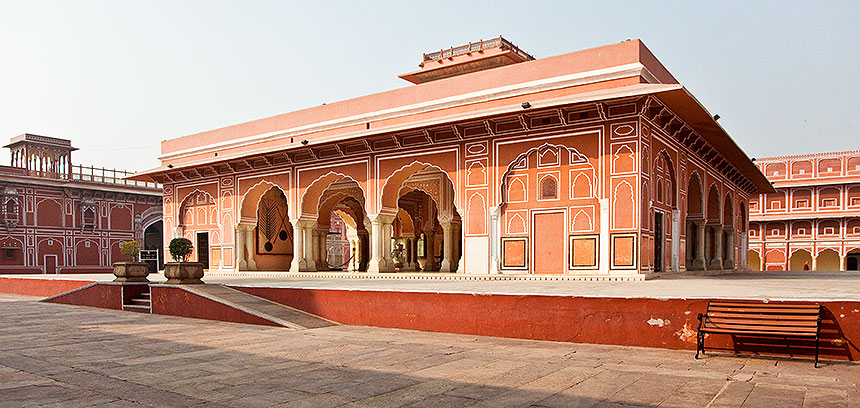 Diwan-i-Khas (Hall of Private Audience), above, with a glimpse of its interior at lower left. The yellow structure in the background at lower right is the upper part of the Chandra Mahal palace.
In another courtyard, the Pritam Chowk ("Court of the Beloved") there are four painted doorways representing the seasons. Two of them are shown above, with some details below.
Chandra Mahal, a seven-story palace said to be extravagantly decorated on every floor. But it is not open to the public.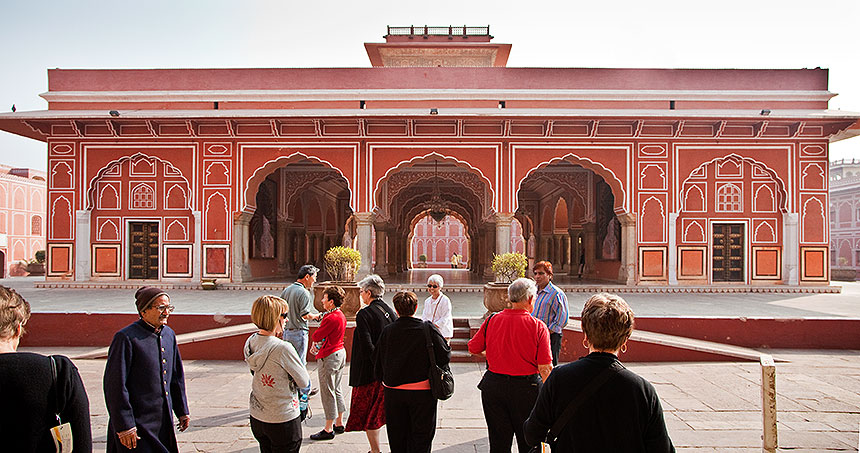 We return to the Diwan-i-Khas (Hall of Private Audience), for a look inside, where we admire chandeliers and a huge silver urn. The urn is one of a pair, said to be the world's largest silver objects; they carried sacred water of the Ganges with Madho Singh II on his journey to London in 1901.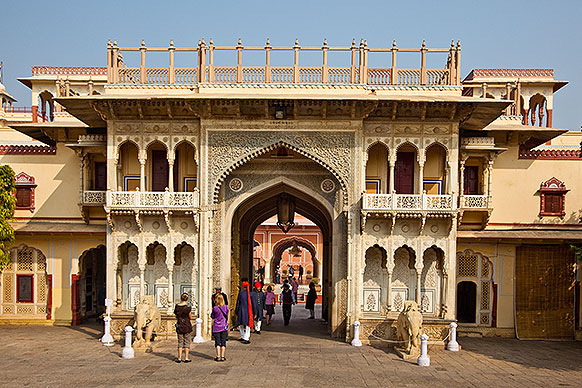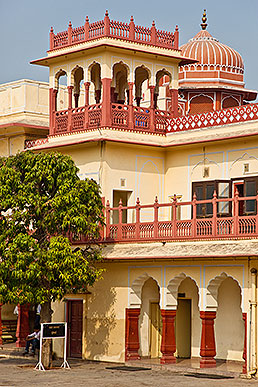 Rajendra Pol (gateway between Mubarak Mahal courtyard and Diwan-i-Khas courtyard), flanked by two elephants, each of which were carved from single blocks of marble. At right is a nearby detail in the Mubarak Mahal courtyard.
__________________________________________________________________
Jantar Mantar
Sawai Jai Singh II built five observatories with instruments to measure astronomical events and keep time (jantar mantar means "calculation instrument"). Of these, the one in Jaipur is the largest and best preserved, and the one we visit. Built between 1728 and 1734, it is like a park with 16 large sculptures of marble and other stones, built to precise geometric plans, and oriented in precisely determined directions. There are no instruments with lenses or mirrors; all of these depend on sight lines and shadow lines.
On our walk from the City Palace to the adjacent Jantar Mantar we pass this snake charmer with his snake.
Arriving at the Jantar Mantar we meet our local guide and subject matter expert.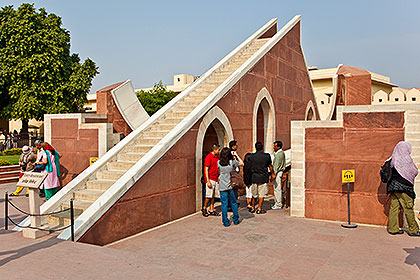 Laghu Samrat Yantra, a sundial which calculates Jaipur's local time to an accuracy of 20 seconds.
Narivalaya Yantra, a pair of sundials.
Yantra Raj, adapted from the Astrolabe.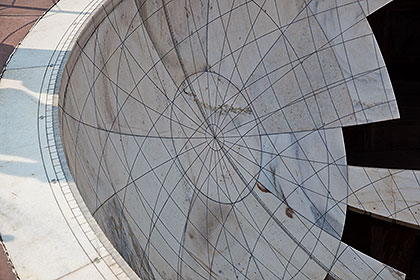 Jai Prakash Yantra, the most elaborate and complex instrument here. Its diameter is 17.5 feet. The interior surface is divided into segments with calibrated lines, while recessed steps between the segments permit observers to get access for measurements.
Our guide takes us amongst the 12 instruments of Rashivalaya Yantra, each of which corresponds to one sign of the Zodiac, and is used by astrologers to draw up horoscopes. Some of them are in the process of refurbishment.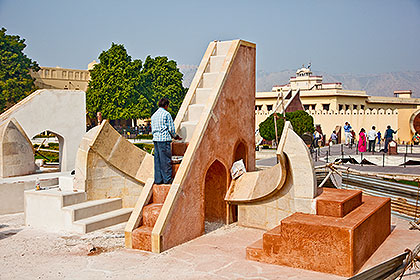 Vrihat Samrat Yantra, capable of giving time to an accuracy of 2 seconds. It is the largest sundial in the world; the gnomon (tallest part) rises 73 feet above the base, and the marble-faced quadrants provide a total of 45 feet of arc.
We get right inside the Ram Yantra, an instrument which measures celestial arc from horizon to zenith, as well as the altitude of the sun.
__________________________________________________________________
Bapu Bazaar
For something totally different, we spend some time exploring one of Jaipur's many bazaars, the Bapu Bazaar.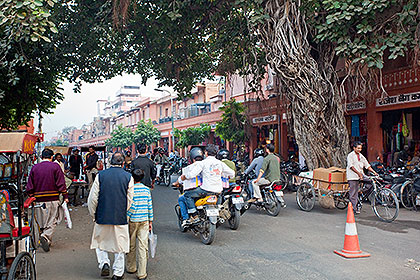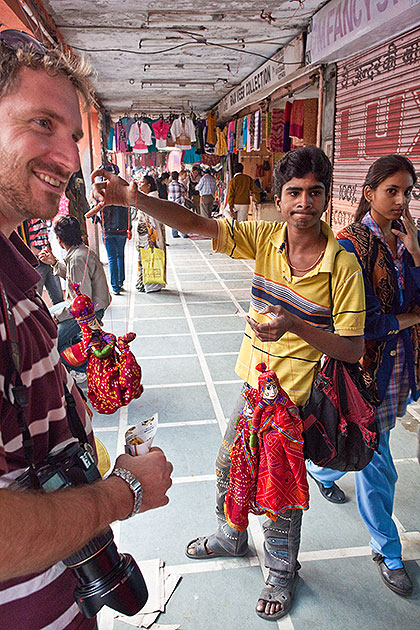 A puppet vendor finds us and makes a sale or two, but a bead vendor fails to connect.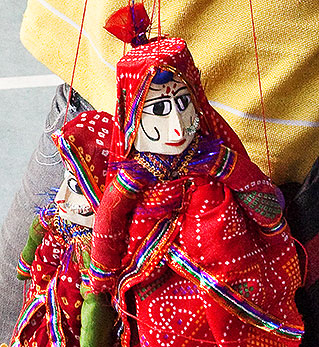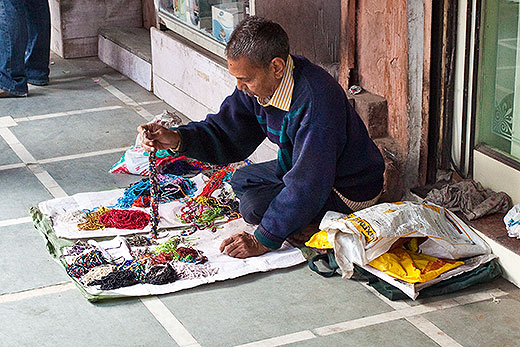 __________________________________________________________________
Hawa Mahal
The whimsical Hawa Mahal ("Palace of Winds") was built by Sawai Pratap Singh in 1799. It is five stories high, but only one room deep. It is dedicated to Lord Krishna, and, seen from afar, the shape of the Hawa Mahal resembles the mukut which often adorns Krishna's head.
With this we conclude our day in Jaipur. Tomorrow we will visit the Amber Fort, a short drive from Jaipur.