Aurangabad: Bibi ka Maqbara, Sari Factory (and the Ellora and Ajanta Caves, which appear on separate pages)
Very early this morning we take a flight from Mumbai to Aurangabad, the largest city in northern Maharashtra (population around 900,000), which has its roots in the 17th century and is named after the last great Mughal emperor, Aurangzeb.
__________________________________________________________________
Bibi ka Maqbara
This is not the Taj Mahal. It is the Bibi ka Maqbara, a deliberate imitation of the Taj Mahal built by Arangzeb's son, Azam Shah, in 1678 as a memorial to his mother. It is less detailed and less graceful, with outsized minarets. Still, it's pretty impressive on its own merits.
An arch with scrollwork.
A carpet is laid over the tomb.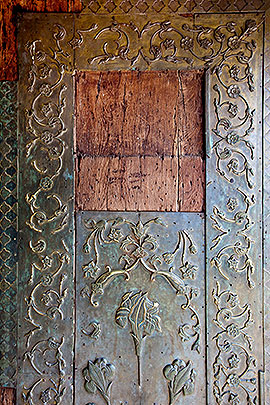 There are intricate screens, and embossed metal panels cover some doors.
Elizabeth (left) and Joyce (right) discover new local fans. Most of the local people we encountered were quite friendly and polite.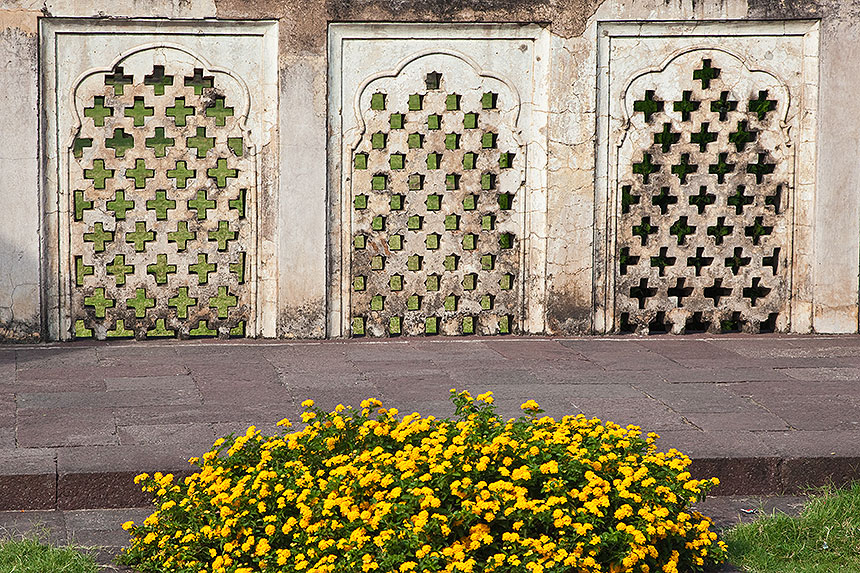 __________________________________________________________________
Sari Factory
We have come to the Paithani Silk Weaving Centre to see the weaving technique called himroo and look at silks and saris.
The himroo technique is demonstrated by an artisan at an old loom. Below right: a Jacquard loom, on which the pattern is programmed with punched cards. It was from this type of loom that a young engineer working for the US Census Bureau, Herman Hollerith, got the idea of using punched cards for tabulating and processing data, first utilized in the 1890 census. Punched cards were then widely used in data processing until the late seventies.
It is time for men to step aside and take cover as the shopping frenzy ensues.
After lunch we are ready to explore the Ellora Caves today, and the Ajanta Caves tomorrow. These explorations occupy the next two web pages.