Tiger Leaping Gorge, Jade Dragon Snow Mountain (Yulong Xue Shan), and Yak Rides
We are making day trip excursions from Lijiang. Our first stop, about 60km north of Lijiang, is Tiger Leaping Gorge, so-named because according to local legend a tiger once escaped from a hunter by leaping over it. The gorge is of the Jinsha Jiang, the main tributary of the Yangtze River, which cuts through 13,000 ft. mountains on either side. Upper, and (in some places) lower trails run along it, and are popular with hikers, but we are content to climb down steep stairs to a set of viewing platforms. We are on the west side; at this spot the river runs toward the north (right to left).
A side gorge across from us has an impressive pedestrian bridge.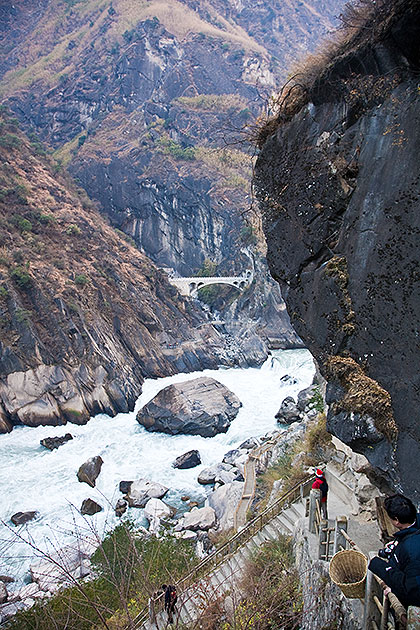 Making our descent.
Approaching the viewing platforms at the bottom.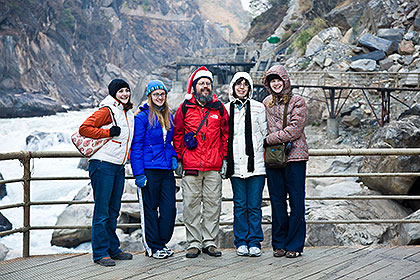 Nicole, Sarah, Dr. Ray, Kelsey, and Jenna. This is Christmas Day.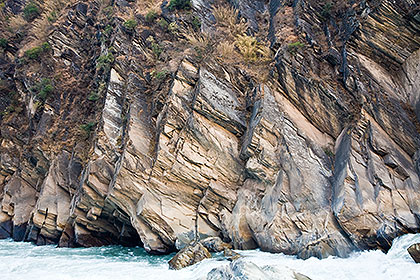 To these ancient rocks it is just one more day of slow erosion.

Panorama of the gorge; use the slider to pan from north (left) to south (right).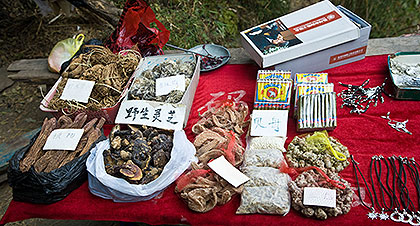 Odd things are offered for sale along the trail, and sedan chairs are available for hire at the top (none of us used them).
__________________________________________________________________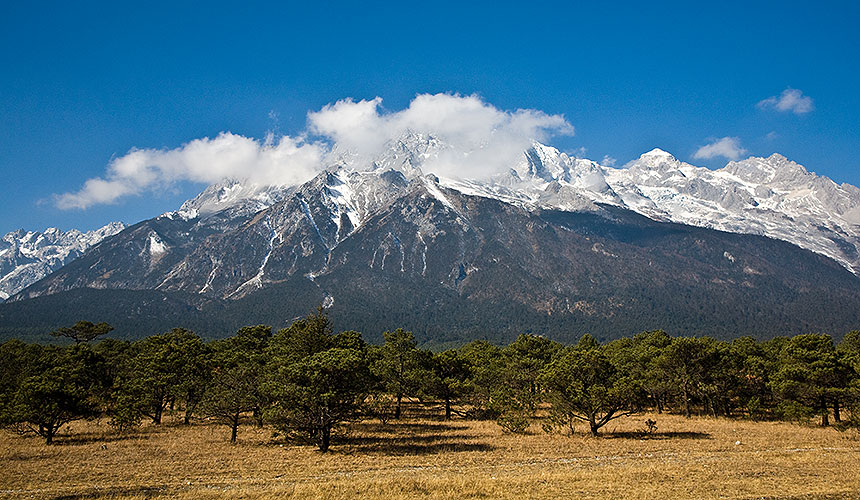 Now we move on to Jade Dragon Snow Mountain (Yulong Xue Shan), the same mountain we had seen in the distance from Black Dragon Pool Park in Lijiang. The summit is at 5596 meters (18,360 ft.), but we will go only as high as a comfortable gondola chairlift will take us, thank you.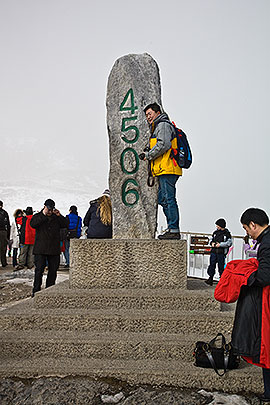 At the welcome center tickets are purchased for the chairlift, which takes us up to the 4506 meter level (14,783 ft.).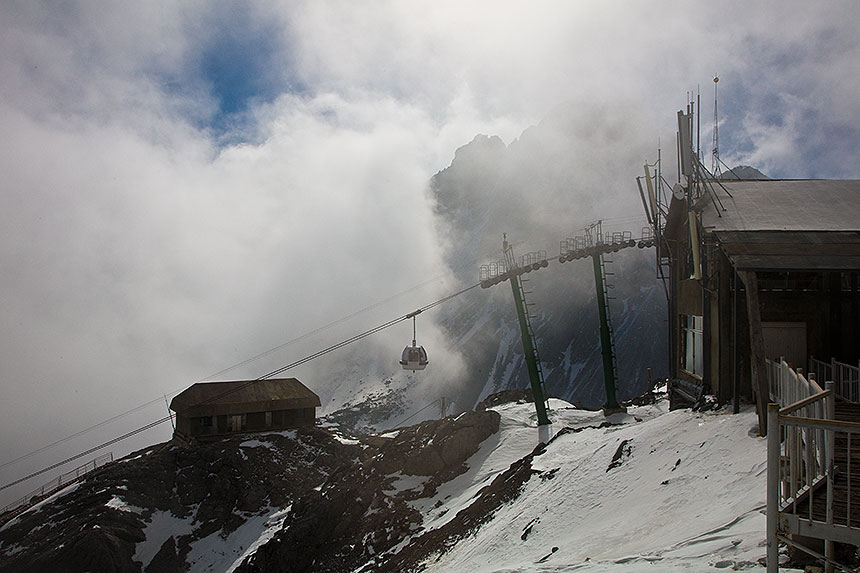 There are viewing platforms, and stairs to go higher. We decide not to go higher. The altitude has bad effects on some of us (me, for instance).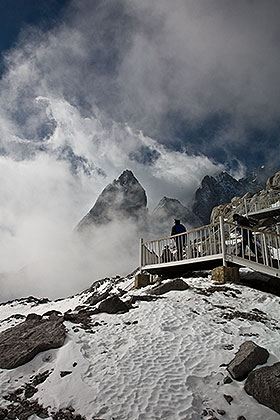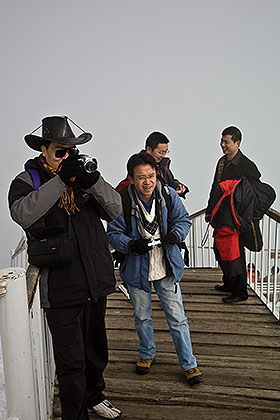 An area is designated for those who want to slip and slide around on the glacier. We pass on this, also.
The descent on the chairlift offers more views of the mountain, and easier breathing as we go lower.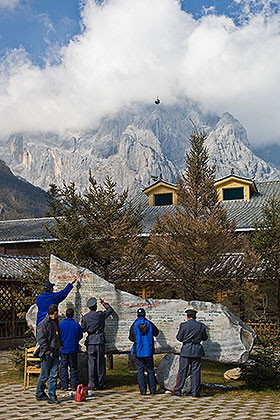 At the foot of the chairlift some soldiers are repainting an informative sign on a stone slab.
A nearby shop offers "HUMP Coffee". This refers to the "hump" airlift during World War II, when Allied pilots flew regularly over these mountains to re supply China after Japanese incursions into Burma cut off the overland supply route, called the Burma Road. Thousands of flights carried supplies along a series of airfields from eastern India to Sichuan Province in China. Neither the often-overloaded aircraft nor the pilots were well suited to the altitudes and dangerous flying conditions, and losses were very high. This is a long, and very interesting, story in itself.
__________________________________________________________________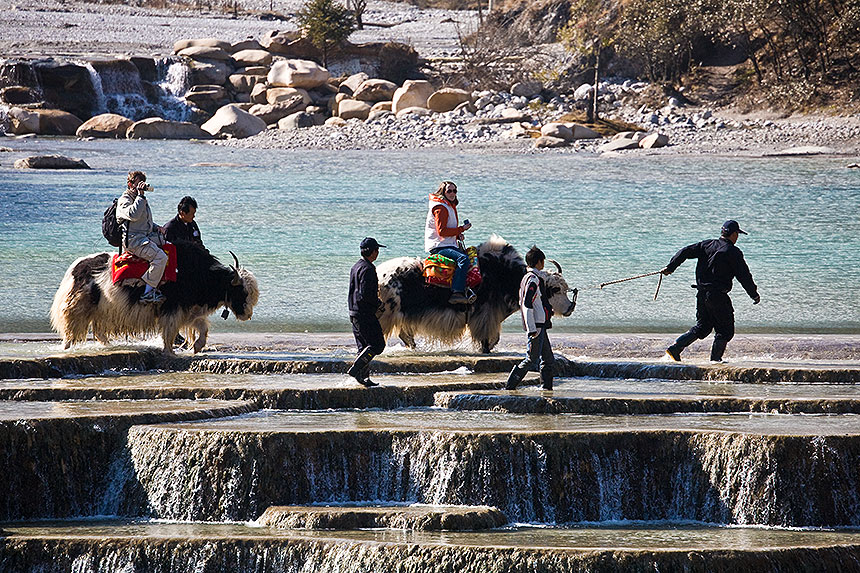 We move on to another spot, where Yak rides are offered. The setting is an elaborate (but artificial) set of irregular flat steps with a stream flowing gently over them. Here, Justin and Nicole are led across the top level.
Kelsey approaches the finish line ...
... while Bob K. is still having his picture taken.
Colorfully dressed women pose for tourists next to the water. Their costumes may be of some authentic ethnic group, but we do not know which.