Some Excursions from Oxford: Blenheim Palace, Hatfield House and Stratford-upon-Avon
During the fortnight we made some excursions from Oxford to noteworthy estates (Blenheim Palace and Hatfield House) as well as to Stratford-upon-Avon to see a Shakespeare play in the Royal Shakespeare Theatre there.
__________________________________________________________________
Blenheim Palace
Blenheim Palace was built and given to John Churchill, the first Duke of Marlborough, by Queen Anne after he defeated the French in the Battle of Blenheim, in 1704. The Palace, still the ancestral residence of the dukes of Marlborough (Churchill family), was the birthplace of Winston Churchill (in 1874). Its English Baroque exterior architecture has not been changed since construction, and the palace is a UNESCO World Heritage Site. We spent almost all of our time touring the interior of the palace, where no photography was permitted.
Seen above from the Grand Court is the facade of the east wing of the palace, with clock tower and statues of English lions by Grinling Gibbons, one of which is devouring a French cock. Below in distance is the Column of Victory, commemorating the Battle of Blenheim.

__________________________________________________________________
Henry Moore at Hatfield House
At the time of our visit a major showing of Henry Moore sculpture was underway. We visited it first, before going on to Hatfield House itself. Some of the sculptures are shown here.
Large Reclining Figure (1984, fiberglass), in front of the original Tudor Hatfield Palace (surviving wing).
Draped Reclining Figure (1969-70, bronze).
Hill Arches (1973, bronze).
Reclining Connected Forms (1969, bronze).
Reclining Mother and Child (1975-6, bronze).
Three Piece Reclining Figure: Draped (1975, bronze).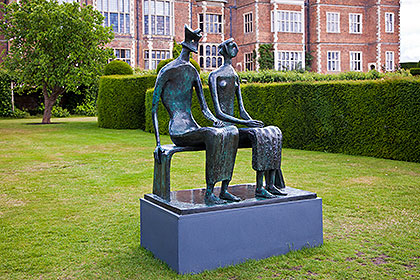 King and Queen (1952-3, bronze).
__________________________________________________________________
Hatfield House
Hatfield House, a well preserved Jacobean country house, was constructed between 1607 and 1611 for Robert Cecil. It is on the site of the original Tudor Hatfield Palace, where Queen Elizabeth I spent much of her childhood, and where she was crowned in 1558. Cecil had been given the palace and property by Queen Elizabeth's successor, James I, who exchanged it for a different estate belonging to Cecil. Cecil had three of the four palace wings demolished, and used the bricks to build the present Hatfield House.
North (above) and west facades of Hatfield House.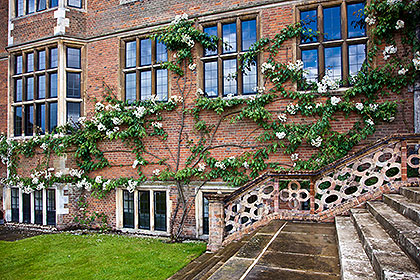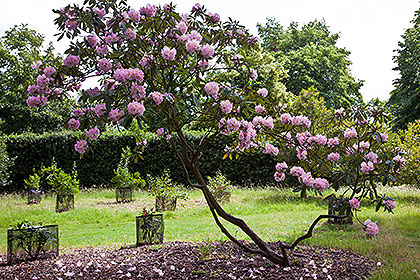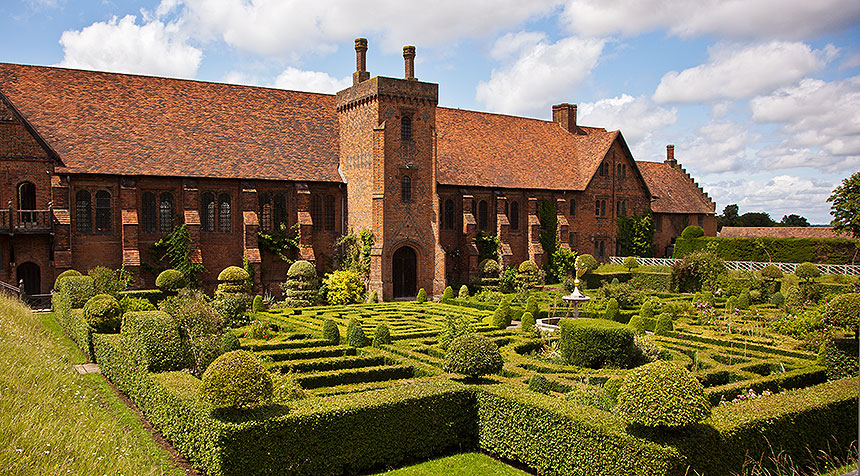 The Original Tudor Hatfield Palace (surviving wing), with Palace Knot Garden in foreground.
Detail: Old Palace, with Palace Knot Garden in foreground.
St. Etheldreda's Church, on the property.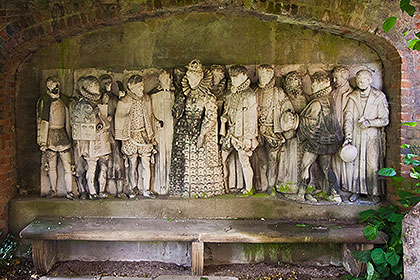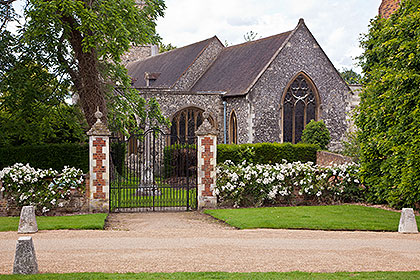 __________________________________________________________________
Stratford-upon-Avon
While visiting Stratford to see a play ("The Merchant of Venice") in the Royal Shakespeare Theatre, we took a little time to look up the burial place of its most famous playwright and poet, and poke around the town a bit.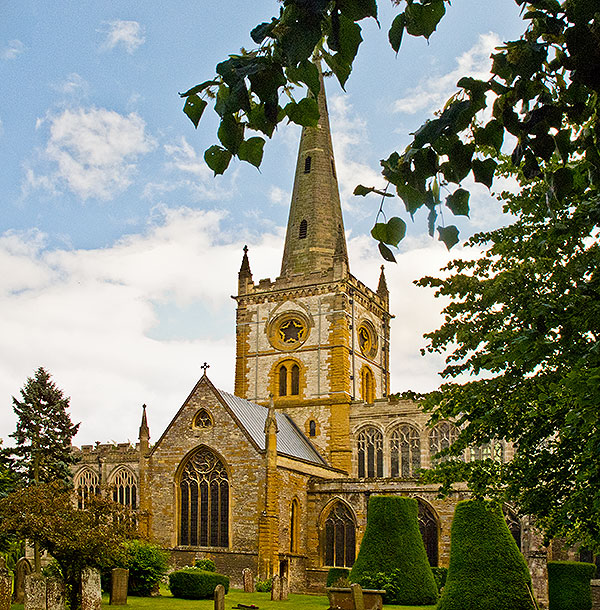 Holy Trinity Church ("Shakespeare's Church"), dating from 1210.
William Shakespeare is buried in the chancel, toward the left in this picture. His wife Anne Hathaway is buried next to him, along with their eldest daughter Susanna. This was Shakepeare's regular church, and his birth and death records are appear in the church's register.
GOOD FRIEND FOR IESUS SAKE FORBEARE
TO DIGG THE DVST ENCLOASED HEARE
BLESTE BE YE MAN YT SPARES THES STONES
AND CVRST BE HE YT MOVES MY BONES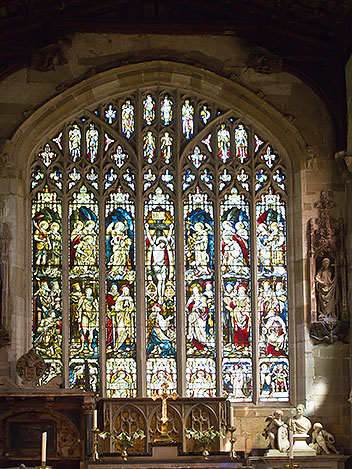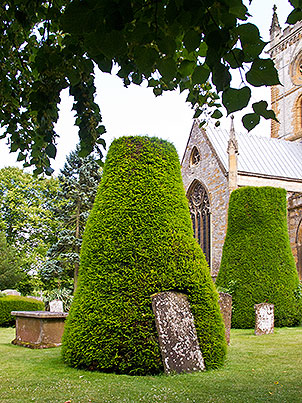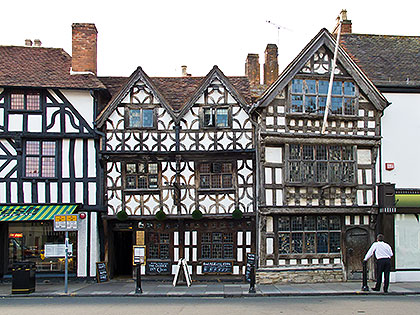 The Garrick Inn occupies a timber-framed building dating from the 1400s, and claims to be the oldest pub in Stratford-upon-Avon.
If you are over 500 years old, as the White Swan Hotel claims to be, you are entitled to cross the road while keeping your feet dry.
This clock tower and monument was donated by an American, George W. Childs of Philadelphia, in 1887 to mark Queen Victoria's Golden Jubilee. It has sculptures of American Eagles and British Lions, and originally there was a fountain as well. Above each clock face there is a sculpted fairy from Shakespeare's play, "A Midsummer Nights Dream".