Novice Initiation Ceremony at West Sae Lan Village
Sae Lan lies on a floodplain of the west bank of the Ayeyarwaddy River directly across from Bagan. The floodplain may at times may be an island, but the river channel defining its west side is not continuous in the satellite photo below. The floodplain is farmed by the villagers of Sae Lan, whose village is divided into an east part and a west part. We have been invited to share in a special celebration and ceremony to initiate three boys as novice monks. We will meet our hosts at West Sae Lan and then proceed with them north to the monastery where the initiation will take place.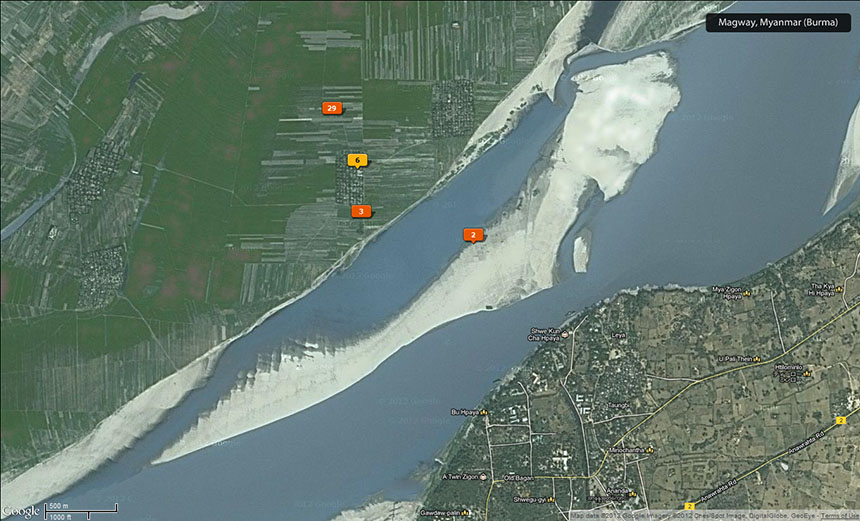 Orange tags show the locations of the 40 photographs on this web page.
__________________________________________________________________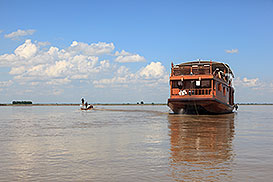 We leave our mother ship in a couple of smaller "long-tail" boats and proceed to West Sae Lan Village.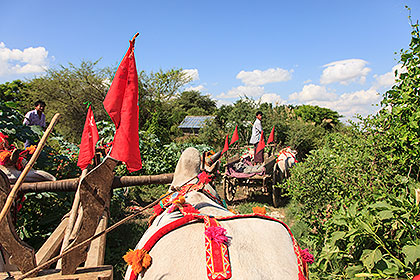 There, we are met by brightly decorated oxen that take us in ox carts to the monastery.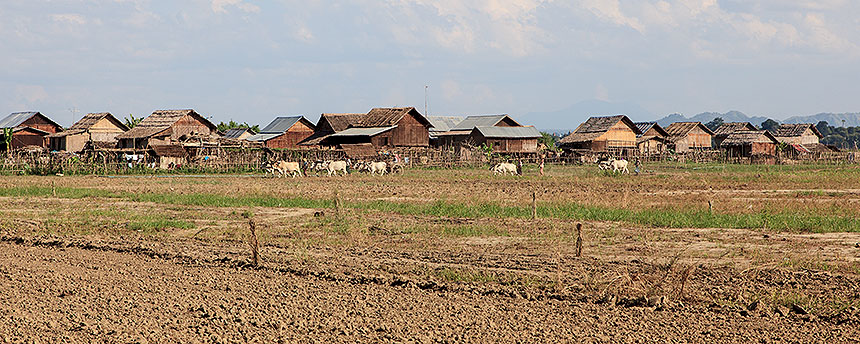 We pass by village farmers working in the fields (East Sae Lan Village is seen beyond them). The rainy season has passed, flooding has receded, and now is time to till the fields and plant crops in the fertile soil.
We gather at the monastery, which is raised on stilts like all habitable structures here, due to the seasonal flooding.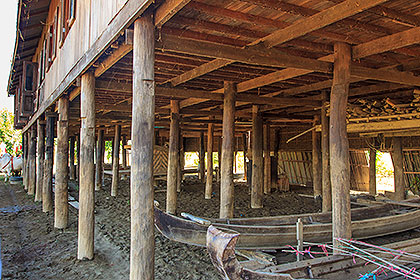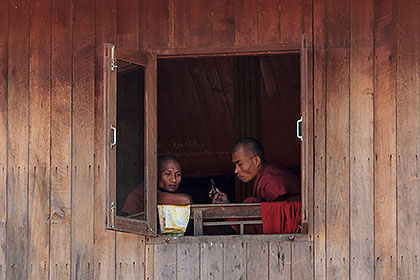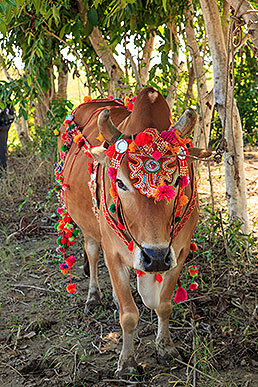 __________________________________________________________________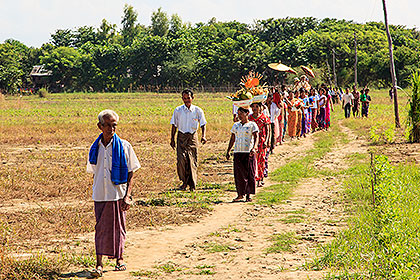 It is nearly 2PM, and villagers start arriving for the festivities.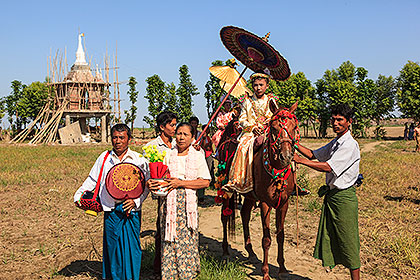 A mystic dancer contorts at upper left, and then the initiates arrive, with fancy robes and full honors.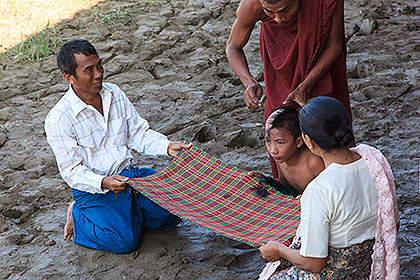 The boys' hair is shaved off, while Maddy (a member of our group) gets acquainted with some of the villagers.
Guests seat themselves on the floor, barefooted of course. Feet must never point toward the Buddha.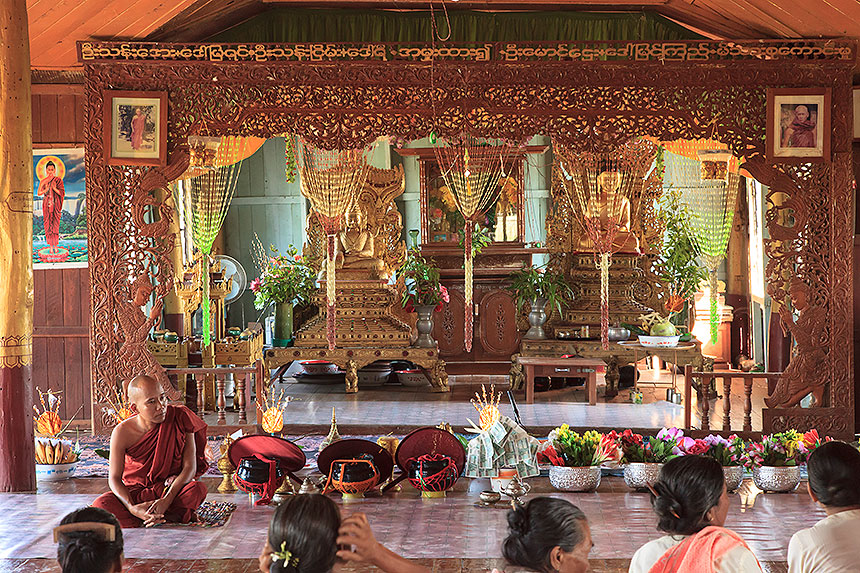 Gifts of flowers and fruit decorate the altar.
The initiates are now in novice monk robes; they and the congregation are led in prayer by presiding monks.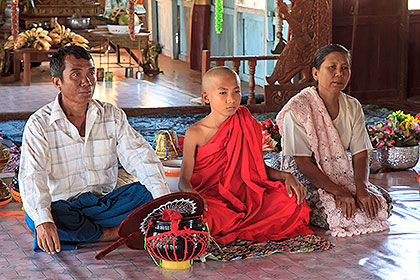 Then the novices and their families pose for photos of the happy event.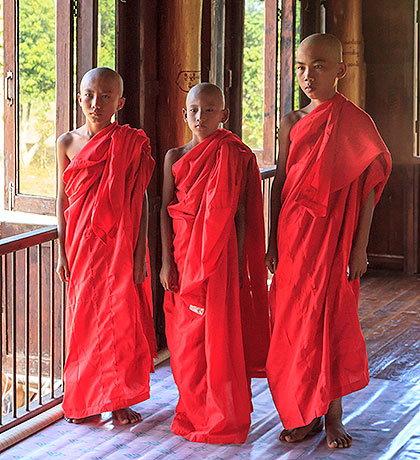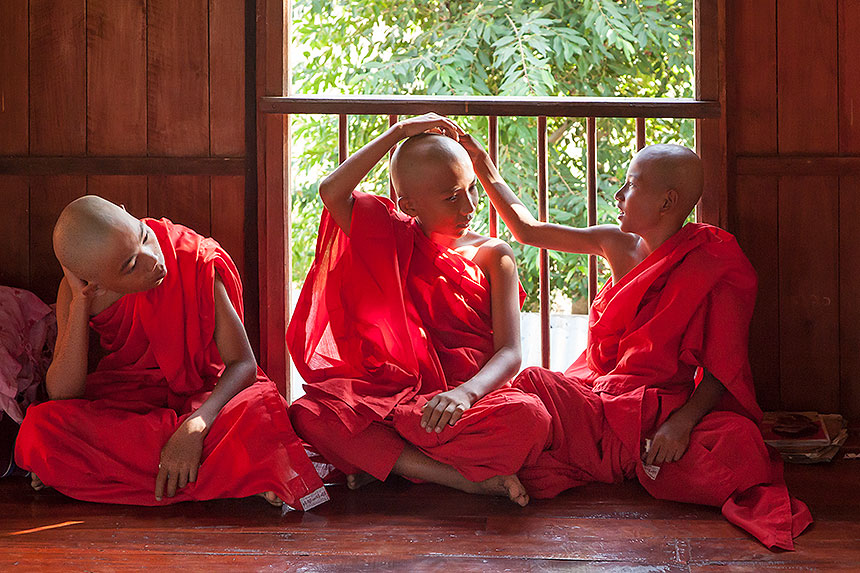 Having no hair takes some getting used to.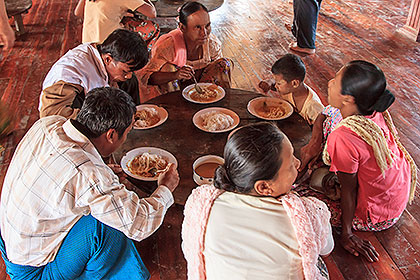 Food has been cooking over open fire-pits just outside, and families and guests now enjoy a meal together.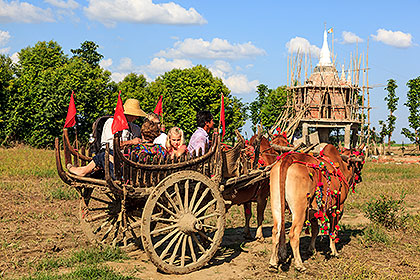 Then we thank our hosts and head for the Sae Lan Village school.
__________________________________________________________________
As usual, our arrival leads to pandemonium as children pour out of the schoolhouse to greet us.