Cienfuegos
The city of Cienfuegos is also capital of a province of the same name on the southern shore of Cuba. Its excellent bay and harbor did not escape early notice, and it has long been a maritime city, nicknamed "Pearl of the South".
__________________________________________________________________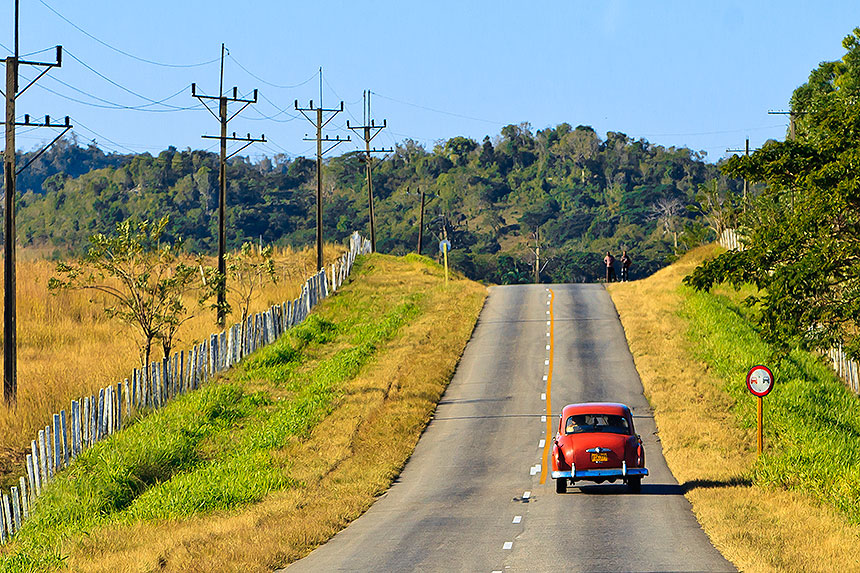 Getting there. The setting kind of reminds you of some lazy day in the fifties, doesn't it?
Horse drawn vehicles are common in rural Cuba.
Fence posts sprout leaves and become trees.
We stay at the Hotel Rancho Luna (entrance shown above), a massive resort hotel. The setting is great, and the rooms are OK, but the food service (a huge crowded buffet) is a victim of the excessive scale, and attention to detail is totally lacking. One peculiarity of the dining service is that forks and knives are provided, but spoons are almost impossible to get even upon request, and then even when obtainable they are usually plastic.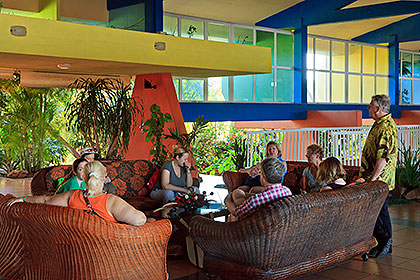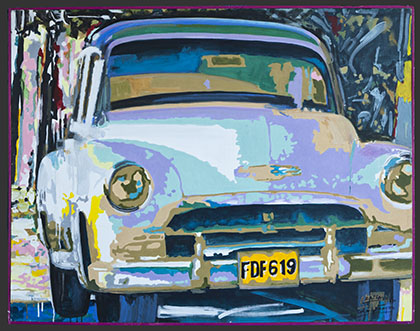 The lobby has a cool painting of one of Cuba's vintage cars.
Sunsets at the beach aren't bad.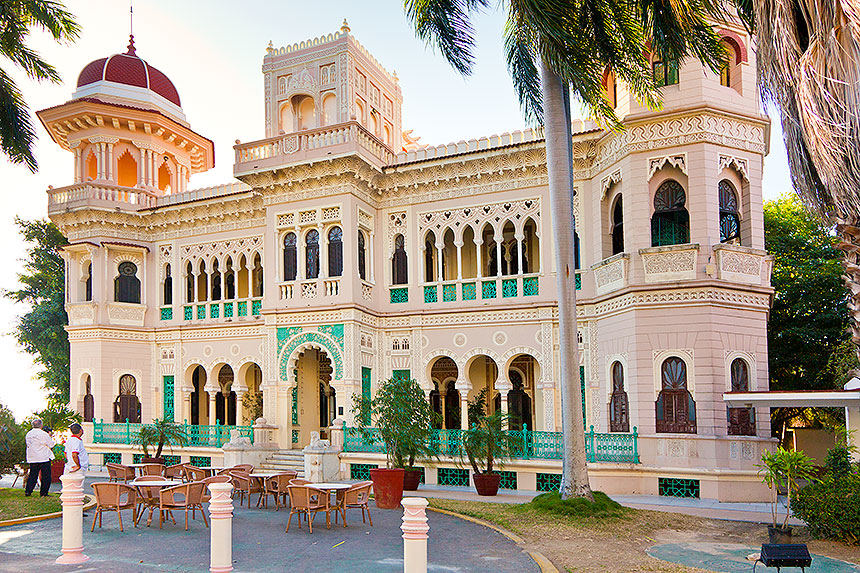 Palacio de Valle, in the city of Cienfuegos, was built by a wealthy sugar merchant, and completed in 1917. Architecturally it fuses several styles (Neo-Gothic, Neo-Moorish and Venitian) into one cohesive whole. The facade has three towers, each of quite different design, representing power, religion and love. In the time of dictator Fulgencio Batista the Palacio de Valle was turned into a casino, but now it is a restaurant.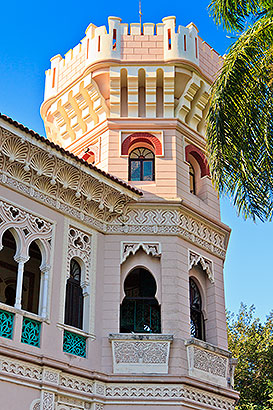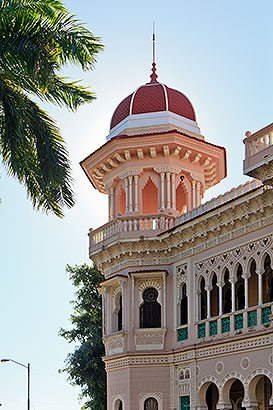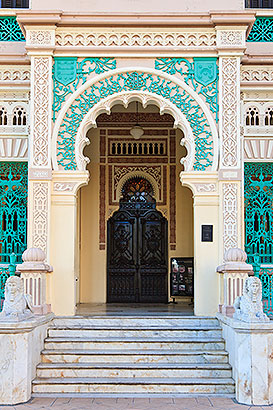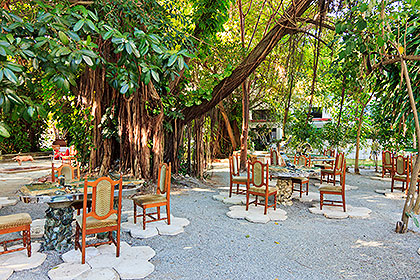 Unfortunately we are not at the Palacio de Valle at dinner time.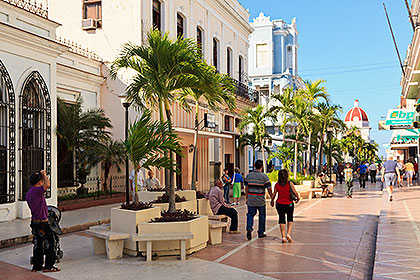 Instead, we take a stroll down Avenida 54, a pedestrian street.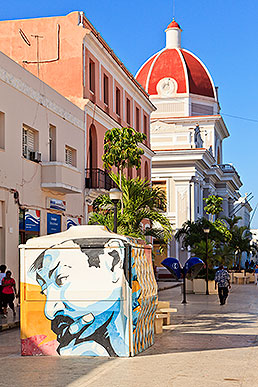 Avenida 54 takes us to Parque Marti, the center and former parade ground of Cienfuegos. The city's historic center was proclaimed a UNESCO World Heritage Site in 2005. Above is Palacio de Gobierno, seat of the provincial government.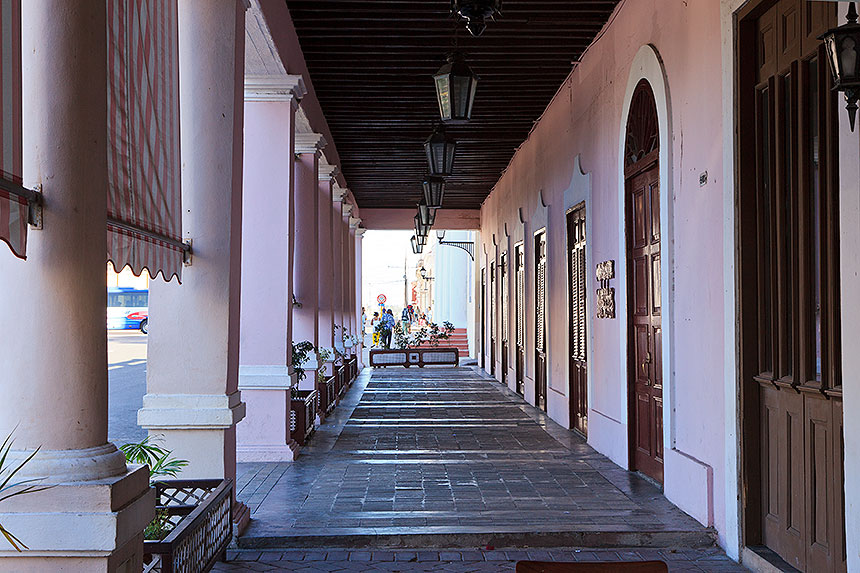 Loggia of Restaurante El Polinesio, at the east end of Parque Marti.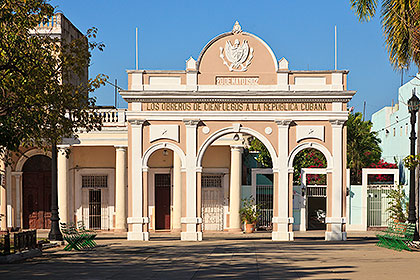 Left, Catedral de la Purisima Concepción, also at the east end of Parque Marti. Right, the only Triumphal Arch in Cuba, at the west end of the park.
An immaculately restored Colegio San Lorenzo stands at the east end of the north side.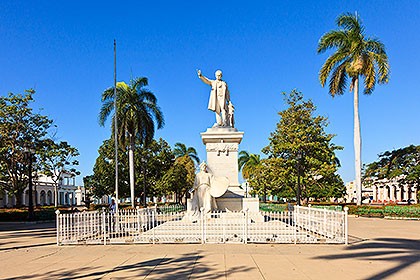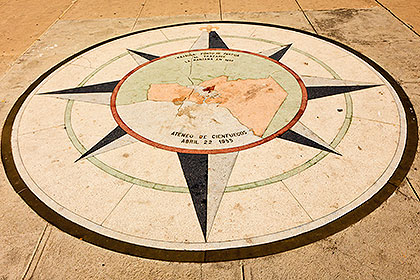 Of course Parque Marti has a statue of Jose Marti, and the center of Cienfuegos (province) is also marked nearby.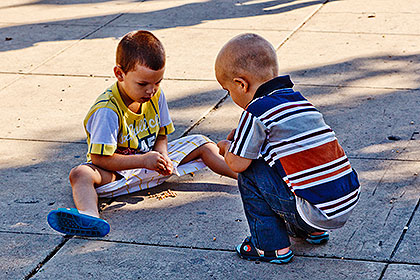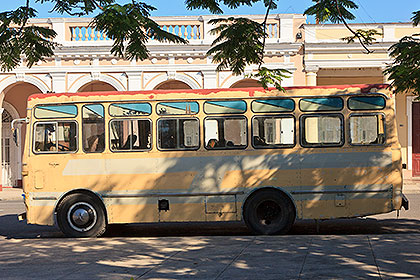 Children play with fallen seeds, and a funky bus is parked in front of the Teatro Tomas Terry, preventing me from getting a photo of it.